Mobile Device Management
Software for a Modern Workforce
Scalefusion MDM Software gives your IT teams visibility and control required to secure, manage and monitor any corporate-owned or employee-owned devices that access corporate data.
Try for Free
Schedule a Demo
Trusted by World's Leading Companies
Manage Your Fleet of Devices From One Platform
Scalefusion MDM Solution gives IT managers robust insights and security of devices running on Android, iOS, macOS & Windows devices across diverse ownership models such as corporate-owned & bring your own device (BYOD).
Android MDM Software
Manage diverse Android endpoints in an enterprise environment including smartphones and tablets to accelerate employee productivity.
Improve business visibility by managing Android-based point of sales systems and Android digital signage. Transform frontline operations with rugged devices and vehicle mounted devices.
iOS MDM Software
Offer your employees the best-in-market devices, leverage the power of iPhones and iPads for business.
Scalefusion MDM for iOS supports varying device use cases across small business, schools and growing enterprises.
macOS MDM Software
Drive smart workplaces with Macbooks and iMacs. Reinvent learning with mac for classrooms and education.
Streamline over-the-air provisioning and security of macOS devices with Scalefusion and Apple Business Manager.
Windows MDM Software
Power your workforce with the devices they are most familiar with. Unleash the power of Windows laptops, desktops and Surface devices for business.
With Scalefusion, you can easily manage and monitor your Windows endpoints from a centralized dashboard, streamlining your management process and increasing efficiency.
Linux MDM Software
Manage and secure Linux endpoints like PCs, desktops, POS devices and IoT devices running on Debian Ubuntu, Mint & Kali.
Perform critical actions like reboot, shutdown and wipe device data along with the ability to run Linux scripts remotely directly from the dashboard.
Secure Mobile Device Management Software
Protect Corporate Data through Device Security and Policies
Our Mobile Device Management Software offers wide-range of security policies that enables your IT administrators to keep data secure and prevent data leakage. Enforce strong security policies to protect corporate data.
Enforce Passcode Policy
Enforce strong password policies to protect critical company data stored on mobile devices.
SafetyNet Attestation
Perform Android device integrity, security, and compatibility check and assign policies accordingly.
MDM Kiosk Mode
IT admin can lock a device into single or multi-app Kiosk mode and prevent access to system settings or any other apps.
Factory Reset Protection
Allow/block the specific Google Accounts that can be used to sign-in to the device if they are factory reset.
Control Screen Capture
Restrict your employees from taking screenshots of work apps on their personal devices.
Configure Wi-Fi Settings
Push Wi-Fi settings, blocking device connection to unidentified networks.
Detect Compliance Violations
Empower the IT admin to detect any compliance violations and take appropriate actions accordingly.
Remote Wipe/Factory Reset
Allow the IT administrator to remote wipe/factory reset device to prevent data loss or theft.
Security Incidents Monitoring
Monitor security breaches like forceful SIM card swap or unsuccessful exit incident from the Kiosk Mode.
Restrict Profile Removal
Prevent users from removing MDM Profile from the Apple Devices. This feature is available only on Apple DEP Devices.
Administrator Activity Logs
Get insights into the activities performed by administrator on the Scalefusion dashboard.
Data Sharing Restrictions
Restrict users from copying/sharing data or documents from work apps to personal apps.
Do more than Mobile Device Management
Everything You Need To Manage Your Device Fleet
Kiosk Mode
Single App Mode
Kiosk Browser
Whitelist Websites
Location Tracking
Blacklist Websites
Multi Geofence
Role-Based Access
Device Analytics
Custom Branding
Reports & Alerts
Disable Hardware Buttons
Seamlessly Distribute and Update Apps
Push business apps with ease. Install applications from App Store, Google Play Store, Windows Business Store or in-house apps via the Scalefusion dashboard.
Manage app patch updates and ensure that all apps are running on the latest version.
MDM Software with Remote Control
Enable Remote Cast & Control To Troubleshoot Devices Easily
Quickly resolve device issues and reduce device downtime with Remote Cast and Control. On select Android OEMs and Windows devices, mirror and take control of the device screens, perform actions and resolve issues, faster. On iOS devices, mirror device screens and resolve device issues remotely.
Take screenshots, record screen sessions and create context-aware support tickets on integrated ITSM platforms.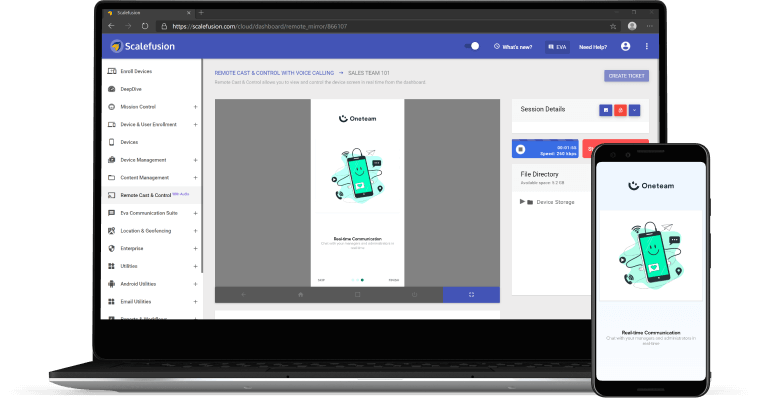 Get Deep Insights Into Your Device Inventory
Our Unified Mobile Device Management dashboard is powerful, intuitive and insightful. It allows you to manage your devices, apps, and content from one place. Couple that with our data-driven mobile analytics feature DeepDive, you can get a 360-degree overview of the entire device inventory.

Compliance-Ready MDM Solution
Scalefusion is fully compliant with the General Data Protection Regulation (GDPR), SOC 2, and HIPAA standards, ensuring that your data and sensitive information are protected. With Scalefusion, you can have peace of mind knowing that your devices and data are secure and in compliance with industry-specific regulations.
Ensure Device Compliance & Policy Enforcement
Quickly enroll devices, streamline policy enforcement, automate application management, monitor & secure your device inventory, troubleshoot & fix on-field issues. Stay on top of things every day.
Automated Device Setup
Define a standard set of corporate policies that are aligned to your business and once the device is enrolled, all the defined policies are automatically applied.
Push Wi-fi settings and device-specific restrictions to devices automatically

Access business emails with superior security through Exchange, POP and IMAP

Automatically install required business apps on the devices
Device Compliance & Automated Policy Enforcement
Create a profile with required MDM policies for device restrictions, passcode settings, access settings, apps and more and assign it based on OS or ownership type (BYOD or corporate-owned).
Enforce device passcodes settings

Bookmark/Push intranet sites and other important website URLs for quick access

Selectively wipe business data from retired devices
Dynamic Policies and Workflows
With our proprietary Scalefusion Workflows feature, IT admins can assign dynamic policies to devices and also schedule repetitive tasks that will run automatically.
Dynamically change device policy based on the time of the day

Schedule Lock/Unlock of Kiosk Mode based devices

Schedule device reboot of unattended Kiosks or frontline devices
Cost-effective Mobile Device Management Solution
Simple Pricing. No Setup Fees.
Free Customer Support.
Scalefusion Mobile Device Management Solution has the most competitive Total Cost of Ownership in the market. No onboarding fees.
Essentials Plan
2
Per Device/Per Month* *Billed Annually Only
Plan Includes
Android, iOS, Windows, macOS & Linux support

Agent Mode & Kiosk Lockdown

Application Management

Live Location

Deepdive & Reports

Free Customer Support
Why Choose Scalefusion MDM?
Our MDM software is user-centric, crusading to help businesses generate measurable growth, improved efficiency & reduced costs with mobility.
Save Cost, Increase
Productivity
Upkeep device performance to improve productivity by troubleshooting device issues remotely.
Reduced Manual
IT Work
Provision devices in bulk, improve IT productivity by automating data-driven compliance checks & security alerts.
Start Managing Devices in
20 Minutes
Easy-to-use solution with a short learning curve, facilitated with an industry-leading support to ensure faster time-to-market.
8000+
Businesses Across the Globe Trust Scalefusion to Manage their Mobility
Frequently Asked Questions