Mobile Application Management
Mobile Application Management Delivered for Your Business
Get started with mobile application management on your business endpoints. Power corporate-owned and employee-owned devices with a line of business apps.
Trusted by World's Leading Companies
Distribute Apps Over the Air,
with Zero-touch
Push business apps on managed devices without end-user intervention. Extend secure access to public apps from the Scalefusion dashboard. Silently install applications on managed devices without end-user intervention.
Play Store / Play for Work Apps
Choose from millions of Android apps and make them work for your business. Deploy apps to enterprise devices from the Play for Work App inventory.
App Store
Search for the right app on the App store. Quickly install public apps on Apple devices with ease.
Apple Volume Purchase Program
Purchase app licenses in bulk. Integrate Apple Volume Purchase Program within the Scalefusion dashboard and push apps on iOS and macOS devices with Apple VPP.
Windows Business Store
Leverage Azure AD-based setup to push business apps on Windows devices. Shop for apps in the Windows Business Store and sync with the Scalefusion dashboard for installation.
Application Management at Your Fingertips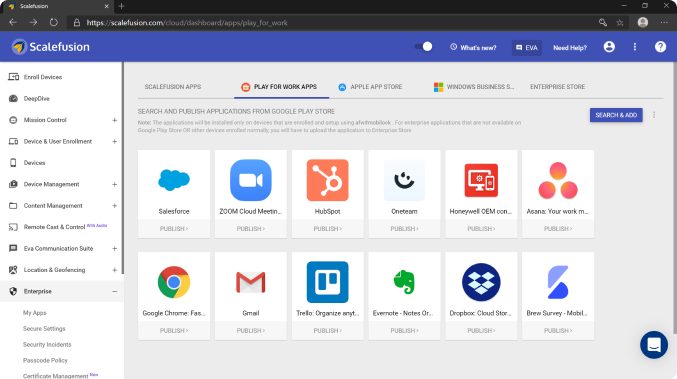 App Install/Uninstall
Install and uninstall apps on managed devices with ease.
Update Apps
Remotely update applications to the latest version. Use Scalefusion Enterprise App to leverage app versioning.
Configure Apps
Create app configurations for authentication and access settings for supported apps.
App Installation Status
Be on the top of your app installation progress. Generate quick reports for app deployment status.
Schedule App Installation
Automate app installation with Scalefusion workflows. Schedule app installation at a set date and time.
Support for BYOD
Install business apps on BYO devices. Prevent data copy from work apps to personal apps. Selectively wipe apps on device retirement.
View App Version
Keep a check on the app versions for devices and device groups. Automate app version reports and last update date.
Track App Data Usage
Monitor data used by apps over mobile and Wi-Fi networks. Identify which apps consume more data on corporate devices.
Automated Third-Party App Patching
Protect your Windows devices against vulnerabilities in your third-party applications with Scalefusion Automated Third-Party Application Patching. Deploy patches remotely and keep your devices safe and secure from potential threats.
Schedule App Updates
Configure how frequently the Scalefusion agent checks for application updates on the managed devices.
Configure Update Sync Interval
Define the update frequency and time window for cumulative updates without hampering daily tasks.
Improve Visibility
Generate extensive reports on all applications and updated devices.
Windows App Catalog
Efficient App Access and Updates with Windows App Catalog
With Windows App Catalog, install and manage apps on your managed devices, ensuring users have access to the right apps.
Seamlessly deploy, update, and remove applications on managed Windows devices, saving time and effort in app management.
Android Application Management
App Delegation
Give 3rd-party apps extra privileges and delegate tasks such as block uninstall, certificate installation etc.
App Publishing
Reduce mobile data costs by installing and updating enterprise apps over Wi-Fi only.
Block Components
Configure packages or specific screens within the allowed applications that should be blocked.
Update Configuration
Configure Application Update settings at the profile level instead of having the same policies for all devices.
Hassle Free Distribution of Private Business Apps
Push private or in-house applications custom-made for your enterprise. Upload and distribute enterprise apps via Scalefusion Enterprise Store.
Android: Upload app APK
iOS: Upload pList link/IPA file
Windows: Upload MSIX/ APPX bundle
macOS: Upload PKG bundle
Frequently Asked Questions