Powerful iOS Mobile Device Management for Modern Businesses and Education
Unleash the power of iOS devices for business and schools. Get started with an iOS MDM Solution driven by simplicity.
Get Started
Schedule a Demo
Trusted by World's Leading Companies
Support the Entire iOS Device Management Lifecycle
Device management is much more than provisioning and monitoring. Go beyond the conventional iOS management. Extend enhanced control and management with Scalefusion iOS MDM solution.
Enrollment and Configuration
Apple Business Manager DEP & QR Code Enrollment
Email Based Enrollment
Azure AD User Enrollment
Wi-Fi & Certificates Restrictions & OS Update
Security and Control
Password Policies
Security Settings
Single App Mode
Lock Device
Wipe Device
Application Management
VPP Apps
Custom Apps
AppConfig Support
Application Version (Custom Apps Only)
End of life/
Retire Devices
Remove Enrollment
Wipe Device
Bring Simplicity, Security and Support Flexible iOS Device Management
Personally-Owned
This is ideal when you allow employees to use their personal iPhones and iPads for work.
Push business apps and content

Selectively wipe-off work apps

Prevent copy from work to personal apps
Company-Owned
This is ideal when your company provides iPhones and iPads to your employees for work.
Have full device control

Track device location

Equip with business apps, block the rest
Bring Your Business Apps and Websites Into Focus With an iOS Kiosk
Support diverse range of enterprise and educational use-cases. Explore different capabilities of iOS MDM Solution.
Single App Mode: Lock the device operations to a single app. Prevent access to hardware keys, block navigation and turn the device into a business-only device.

Multi App Mode: Configure two or more apps or browsers to run on the device. Prevent access to any other apps.

Company Branding: Reflect your company branding on iPad kiosks. Customize home screen and lock screen wallpapers.
Simplified Enrollment To Deploy Your iOS Devices at Scale
Provision iPhones and iPads straight out of the box using Apple Business Manager (formerly Device Enrollment Program (DEP). Enable your employees to use their devices out of the box without intervention from the IT team.
Import users from G Suite and Office 365 and quickly onboard devices on the Scalefusion platform. No deployment is too big – or small.
Apps for Your Business, Delivered With Ease
Enable your workforce to do more with relevant business apps on iOS devices. Install, configure, or uninstall applications from the Scalefusion dashboard.
Apple App Store: Select, configure and push applications from the App Store.

Volume Purchase Program: Drive bulk app publishing using Apple VPP.

Scalefusion Enterprise Store: Install private apps by uploading PList link or IPA file.
App Configurations
Select, configure and push applications from the App Store.
Installation Status
Drive bulk app publishing using Apple Volume Purchase Program (VPP).
Silent Installation
Install private apps by uploading PList link or IPA file.
Application Blacklisting for Distraction-Free Work
Restrict usage of non-business apps on the devices. Blacklist the apps that do not fit your enterprise security profile.
Never Let Device Downtime Come in the Way of Productivity
Don't lose business productivity caused by device errors. Remotely troubleshoot device issues and shorten device downtime with Scalefusion Remote Cast. Seamlessly support remote working, learning and frontline workforce with ease.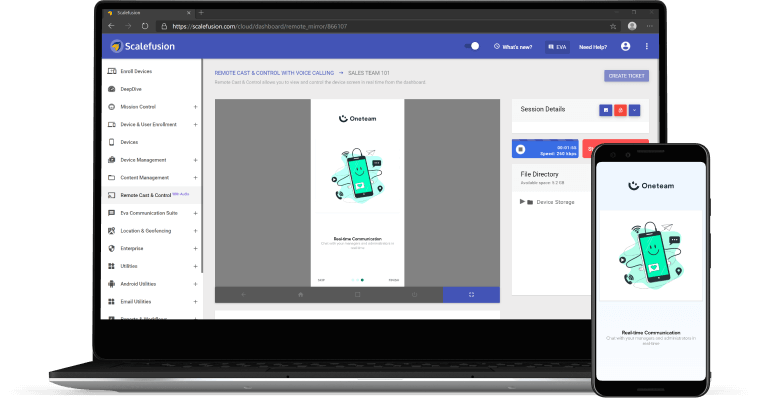 Faster Issue Resolution
Quickly resolve device issues of remote iOS devices.
Take Screenshot
Capture device screenshots when the device session is in-process.
Create Support Tickets
Integrate ITSM platform to create context-aware support tickets.
Key Features
Leverage a wide range of features to expedite iOS device management. Protect corporate data and prevent device misuse.
Certificate Management
Push digital certificates for authenticating connections to enterprise Wi-Fi.
Work Data Settings
Prevent data sharing between work apps and personal apps.
iOS Software Updates
On supervised devices, delay OS updates between 30-90 days.
Email & Exchange Settings
Enable quick access to work email. Push email and exchange settings.
Network Settings
Configure Wi-Fi network, hotspot and data roaming settings.
Location Tracking
Track device location. Create geofences for enhanced monitoring.
Make Security Your #1 Priority
When your iOS devices are helping out accomplish multiple tasks, don't expose the corporate data lying to malware attacks and misuse. Apply strong security settings and access control policies policies. Protect corporate data on lost and stolen devices with remote wipes.
Pave the Way for Digital Learning With Scalefusion MDM for Education
Extend iPads for educational use. Provision educational apps, content and books for remote and classroom learning. Make the learning environment safe, protect student privacy and security. Block apps and websites that are not ideal for students and exercise parental controls without hampering the user experience.
Other Industries
Enterprises
Deploy iOS devices for knowledge workers such as designers and developers within your enterprise.
Retail
Put your best foot forward. Extend iPad POS for retail for enhanced customer experience.
Healthcare
Power your frontline healthcare staff with iPhones and iPads equipped with healthcare apps.