Secure Linux Management Software
Linux Device Management Solution for Laptops and Desktops
(Coming Soon)
Experience Linux MDM powered with simplicity. Everything you need to provision, secure and monitor your Linux laptops & PCs is delivered right at your fingertips.
Trusted by World's Leading Companies
Flexible Linux Device Management for Ubuntu & Other Debian Distributions
Take device management to the next level by gaining granular control with diverse management modes. Set Linux devices in motion without hampering the user experience. Using Scalefusion MDM devices can now be configured to run on single or multi-app kiosk mode.
Vital Device Information: Get all the vital device related information of your linux device inventory in a go.

Perform Critical Actions: Perform Critial device actions such as reboot, shutdown and wipe straight from the dashboard.

Kiosk Mode: Setup Kiosk Mode on your Linux devices to restrict device usage to only certain apps. Ensure security and avoid misuse of devices for non-business purposes.
Bulk Enrollment,
Simplified
Speed up policy application on the devices with bulk device enrollment. Create policies, push apps and content and get started with Linux device management.
Say No to Device Downtime With
Scalefusion Remote Support
Reduce device downtime, improve employee productivity. Mirror remote Linux devices screens and take control to resolve device issues. Extend rapid fixes and create support tickets on integrated ITSM platforms.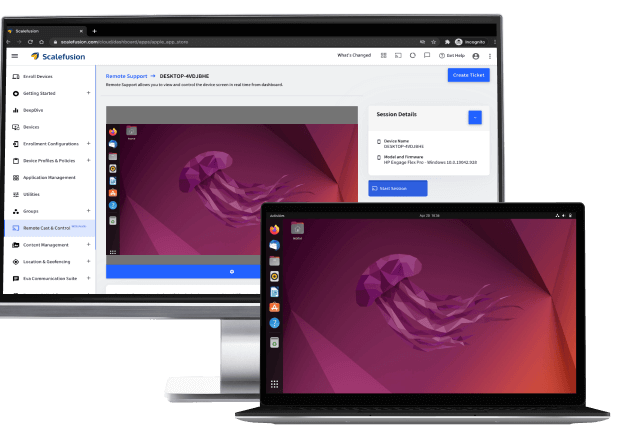 Secure Linux Management Software
Run Linux Scripts Remotely
You can execute Linux scripts to perform any operation on a remote Linux device just like how you would do if it was right in front of you.
Get Quick and Deep Insights Into Your Device Inventory
Replace your cumbersome Linux device management solution with Scalefusion. Our clutter-free dashboard makes it extremely easy to manage your Linux devices and endpoints and to perform day to day operations.
Other Supported Platforms
Register your interests by filling out the form for early access and discounts
Experience the Linux Management Built To Make IT Teams Life Easier