Android EMM Solution
Android Enterprise Mobility Management Solution for a Modern Workforce
Manage corporate-owned and employee-owned Android devices used for work. Configure business apps and content, prevent unauthorized access and streamline performance of Android devices deployed for business.
Secure, Manage Corporate-Owned & Employee Devices
Android EMM solution allows IT administrator to remotely manage enterprise-level configurations for the BYOD as well as Corporate-Owned devices
Set Corporate Policies on Devices
Use Corporate-Owned Android Devices for specific employees or public-facing scenarios with selected Apps, Content & Websites.
Strict Lockdown
Manage Devices with Selected Apps that can be used in Single App or Multi App Mode.
Control Application Permissions
Incorporate runtime permissions & policies silently on your Android EMM devices.
Browser Lockdown
Allows IT Admin to create a safe and secure browsing environment that your business needs.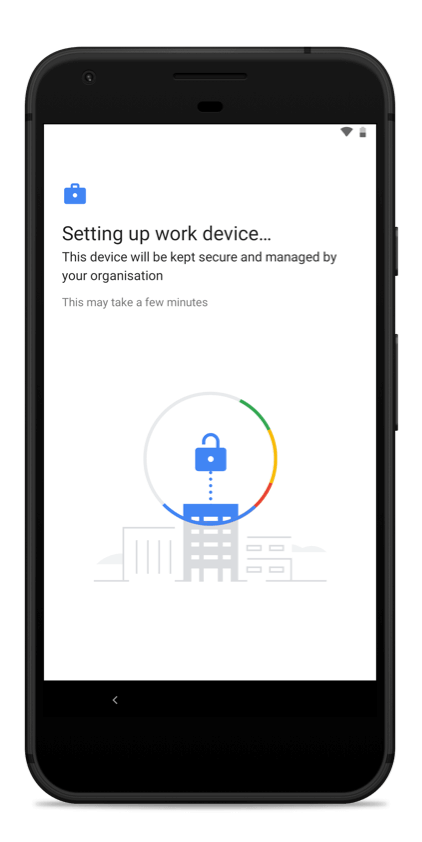 Improved BYOD Management Strategy
Employees can keep their personal Apps, Data & Content separate from Work Data by enabling Android for Work profile.
Separate Apps & Data
Use your Android device for both work & play, as work applications are installed in the secure work container.
Set an Integrated Experience
Easily understand work-related notifications with the Briefcase icon present throughout the Android experience.
Enable Work Profile Passcode
Allows you to enforce a separate password for your Work Apps, to ensure that the access to Work Apps is protected by a password.
How Android EMM Solution Secures your Businesses Data
Set Restrictions that lets you configure a wide range of policies as per your requirement.
Control Screen Capture
Restrict Employees from taking Screenshots of Work Apps.
Outgoing Phone Calls
Allow Admin to completely disable outgoing calls.
Corporate Document Control
Choose if Personal Apps can Access Corporate App Data.
Data Security
Choose if Personal Apps can Access Corporate App Data.
Wipe Enterprise Data on Device
Wipe Corporate Data remotely without hampering Personal Data.
Factory Reset Protection
Prevent misuse of devices against unauthorized Factory resets on the devices.
Location Tracking
Track device location. Create geofences for enhanced monitoring.
Android Management Software
Manage Any Device or Endpoint That Runs on Android
Modern businesses need diverse device types for varied use-cases. Manage them all with a single solution.
Phone & Tablet

Rugged & Handheld
Point of Sale
Interactive Kiosk
Digital Signage
Custom Device
Device Enrollment in Minutes with Scalefusion
Make Manual Device Enrollment a thing of the past with easy mass deployment process for Android devices using Scalefusion streamlined Enrollment solutions.
Android EMM Enrollment
Users can enroll devices that are out-of-the-box when the device prompts to enter your Gmail account, then enter afw#mobilock and tap Next.
Zero-Touch Enrollment
Get a fleet of devices enrolled with Android Enterprise Mobility Managed account, allowing organizations to mobilize devices with ease.
QR Based Enrollment
Enterprise Administrator can configure QR code with device policy & restrictions then send invitations via email to get devices enrolled.
Official Android EMM Partner
Successfully Deployed Millions of EMM Devices
Full device
management
Work profile
management
Dedicated device
management
Rugged device
management
Application Management Done Right with Android EMM Solution
Application Management provides the ability to manage and distribute the apps using Managed Google Play & Securely distribute in-house apps to devices using Scalefusion Enterprise Store.
Managed Play Store: Distribute business apps and Progressive Web Apps (PWAs) from Google Play Store

Scalefusion Enterprise Store: Publish private apps on devices by uploading Android APK on the Scalefusion dashboard
Install
Silent, remote app installation. Schedule app publishing.
Update
Remotely update apps to the latest version
App Config
Configure app settings suited to your business
Why Choose Scalefusion EMM Solution
Remote Cast and Control made Easy with Scalefusion Android EMM
Don't lose business productivity caused by device errors. Remotely troubleshoot device issues and shorten device downtime for remote workforce and frontline employees. Mirror device screens on the dashboard and on select devices, take screen control.
VOIP Calling
Extend step-by-step guidelines to resolve device issues
File Sync
Sync device files, push or delete files and setup files
Support Tickets
Create context-aware support tickets on integrated ITSM tool