Update & Patch Management
OS Update & Patch Management for Windows and Mac
Schedule, delay and automate OS Updates and Patches for your device fleet and keep them up-to-date at all times.
Windows Patch Management: Comprehensive Security for Windows Laptops and Desktops
Ensure complete security for your Windows laptops and desktops with efficient patch management. Simplify security and compliance by ensuring that your Windows devices and applications run on the latest versions, at all times.
macOS Update and Patch Management: Safeguarding Your Mac Environment
Take charge of your Mac environment's security by implementing effective patch management solution for your macOS. Proactively manage updates and upgrades, ensure the protection of your Mac laptops and desktops from vulnerabilities.
Defer Updates

Push Updates directly or notify the users

Enhance device performance
Android OS Update Management: Gain Granular Control over devices
Get a holistic view of all the available OS updates on your enrolled Android devices. Configure sync intervals and view available OS updates on all managed Android devices.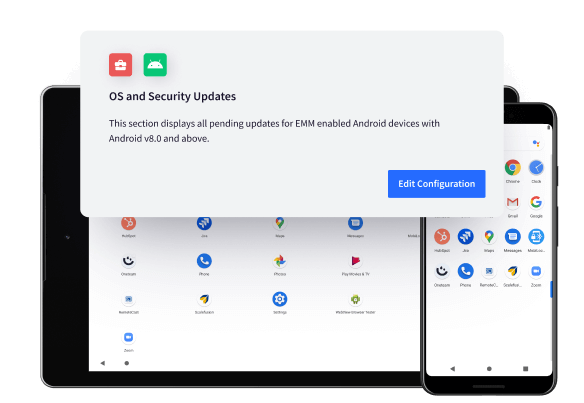 A Patch Management Solution that Works Seamlessly for all Updates
Scalefusion makes patching easy and effortless. With Scalefusion Update & Patch Management, you can push diverse software as well as driver updates with ease.
Critical Updates
Updates to address critical, non-security-related bugs and fixes.
Definition Updates
Frequent software updates containing additions to the product's definition database
Feature Packs
New product functionalities that are first distributed outside of a product release
Security Updates
Updates to fix a product-specific, security-related vulnerability
Service Packs
A tested, cumulative set of all hotfixes, security updates, critical updates and updates
Tools
Utilities or features that help to complete one or more tasks on the devices
Update Rollups
Tested, cumulative set of hotfixes, security updates, critical updates, and updates that are packaged together for easy deployment
Updates
Updates targeting a specific problem to address non-critical, non-security-related bugs
Driver Updates
Updates to software that controls the input and output of the devices
Simplified Third-Party App Patching
Secure your Windows devices with Scalefusion's Automated Third-Party Application Patching. Remotely deploy patches to protect against vulnerabilities and keep your devices safe from threats.
Réparez-le avec Scalefusion
Business & Enterprise Plan users of Scalefusion get access to OS Update and Patch Management at no additional cost. Upgrade to Business or Enterprise or get OS Update and Patch Management as an add-on, at USD 2 per device, per month, billed annually.
Tarification
$2
par appareil / mois
*Facturé annuellement seulement