Gestion des applications
La gestion des applications au service de votre entreprise
Démarrez avec la gestion des applications mobiles sur vos terminaux d'entreprise. Alimentez les appareils appartenant à l'entreprise et aux employés avec une gamme d'applications professionnelles.
Les plus grandes entreprises du monde nous font confiance
Distribuez des applications par liaison hertzienne,
sans contact
Poussez les applications d'entreprise sur les appareils gérés sans intervention de l'utilisateur final. Élargissez l'accès sécurisé aux applications publiques à partir du tableau de bord Scalefusion. Installez silencieusement des applications sur les appareils gérés sans intervention de l'utilisateur final.
Applications Play Store/Play for Work
Choisissez parmi des millions d'applications Android et mettez-les au service de votre entreprise. Déployez des applications sur des appareils d'entreprise à partir de l'inventaire d'applications Play for Work.
App Store
Recherchez la bonne application sur l'App store. Installez rapidement et facilement les applications publiques sur les appareils Apple.
Programme d'achat en volume d'Apple
Achetez des licences d'applications en masse. Intégrez le programme d'achat en volume d'Apple au sein du tableau de bord Scalefusion et distribuez des applications sur les appareils iOS et macOS avec Apple VPP.
Windows Business Store
Exploitez la configuration basée sur Azure AD pour distribuer des applications professionnelles sur les appareils Windows 10. Recherchez des applications dans le Windows Business Store et synchronisez-les avec le tableau de bord Scalefusion pour l'installation.
La gestion des applications au bout des doigts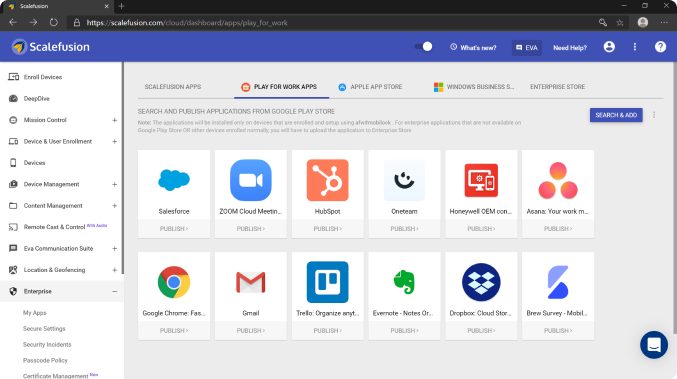 Installation et désinstallation d'applications
Installez et désinstallez facilement les applications sur les appareils gérés.
Mise à jour des applications
Mettez à distance les applications à la dernière version. Utilisez Scalefusion Enterprise App pour tirer parti du changement de version des applications.
Configurez les applications
Créez des configurations d'applications pour les paramètres d'authentification et d'accès pour les applications prises en charge.
État de l'installation de l'application
Soyez au fait de la progression de l'installation de votre application. Générez des rapports rapides sur l'état du déploiement des applications.
Planifier l'installation d'une application
Automatisez l'installation d'applications avec les flux de travail Scalefusion. Programmez l'installation de l'application à une date et une heure précises.
Prise en charge du BYOD
Installez les applications professionnelles sur les appareils BYO. Empêchez la copie des données des applications professionnelles vers les applications personnelles. Effacez sélectivement les applications lors du retrait de l'appareil.
Affichez la version de l'application
Gardez un œil sur les versions de l'application pour les appareils et les groupes d'appareils. Automatisez les rapports sur la version des applications et la date de la dernière mise à jour.
Suivi de l'utilisation des données des applications
Surveillez les données utilisées par les applications sur les réseaux mobiles et Wi-Fi. Identifiez les applications qui consomment le plus de données sur les appareils de l'entreprise.
Automated Third-Party App Patching
Protect your Windows devices against vulnerabilities in your third-party applications with Scalefusion Automated Third-Party Application Patching. Deploy patches remotely and keep your devices safe and secure from potential threats.
Schedule App Updates
Configure how frequently the Scalefusion agent checks for application updates on the managed devices.
Configure Update Sync Interval
Define the update frequency and time window for cumulative updates without hampering daily tasks.
Improve Visibility
Generate extensive reports on all applications and updated devices.
Windows App Catalog
Efficient App Access and Updates with Windows App Catalog
With Windows App Catalog, install and manage apps on your managed devices, ensuring users have access to the right apps.
Seamlessly deploy, update, and remove applications on managed Windows devices, saving time and effort in app management.
Distribution sans souci d'applications privées d'entreprise
Mettez en ligne des applications privées ou internes conçues sur mesure pour votre entreprise. Téléchargez et distribuez des applications d'entreprise via Scalefusion Enterprise Store.
Android : Télécharger l'APK de l'application
iOS : Télécharger le lien pList/fichier IPA
Windows : Téléchargez le bundle MSIX/APPX
macOS : Télécharger le pack PKG
Frequently Asked Questions