Kiosk Software
Lockdown Devices in Kiosk Mode with Scalefusion Kiosk Software
Scalefusion kiosk software allows IT admin to lock any devices in single or multi-app kiosk mode, preventing unauthorised access and limiting excess data costs.
Commencer
Planifier une démonstration
Les plus grandes entreprises du monde nous font confiance
Best Multi-Platform Kiosk Solution in the Market
Configure corporate-owned devices for business by locking them in single or multi-app kiosk mode. Disable non-business apps and websites to prevent employee distractions & device misuse.
Provision Devices in Single App and Multi-App Kiosk Mode
Multi-App Kiosk Mode
Multi App Mode enables you to allow two or more apps on the Android device, blocking the rest.
Custom Branding

Factory Reset Protection

Hide the bottom navigation bar from screen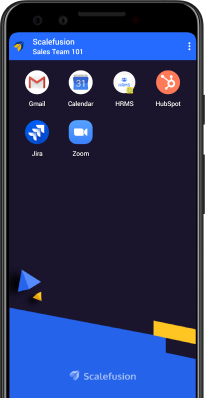 Single App Kiosk Mode
Run any Application/Website in Single App Mode even when the device reboots (App Always Runs).
Block hardware keys

Set Delay to Launch the App

Set device screen in Full Screen mode
Turn Any Device into Kiosk Mode with Scalefusion Kiosk Solution
Key Features of Scalefusion
Kiosk Software
Bring sophistication and ease to your device management efforts with Scalefusion's key offerings.
GPS-based Location Tracking
Track Android, Windows and iOS device location in real-time. Use Open Maps or integrate Google Maps with Scalefusion dashboard.
Geofencing
Create and apply virtual boundaries to actual physical locations. Receive alerts when a device enters or exits a geofence.
Configure settings
Get the entire route history. Track location in Balanced Mode and High Accuracy Mode. Choose frequency of collecting location details.
IP-based Location Tracking
For macOS devices, track device location using IP address.
Push Content Files
Push up-to-date business resources in diverse file formats. Publish content files on multiple devices at once.
Create folders and subfolders
Publish content in contextual folders and subfolders for easy access.
Upload via External Drive
Save content management space by uploading file links on Scalefusion dashboard.
Create Presentations
Create interactive presentations with video, audio and image files. Play presentations on loop or set as screensavers.
Certificate Management
Push digital certificates for authenticating connections to enterprise Wi-Fi.
Enforce Passwords
Create robust password policies. Enforce password complexity and set password expiry schedule.
SafetyNet Attestation
Perform Android device integrity, security, and compatibility check and assign policies accordingly.
Control Screen Capture
Restrict your employees from taking screenshots of work apps on their personal devices.
Detect Compliance Violations
Empower the IT admin to detect any compliance violations and take appropriate actions accordingly.
Data Sharing Restrictions
Restrict users from copying/sharing data or documents from work apps to personal apps.
Automate Recurring IT Tasks
Save IT cognitive load by automating recurring IT tasks. Schedule tasks and receive real-time reports on task completion.
Detect Compliance Violations
Create automatic periodic checks for device usage and performance. Detect any compliance violations with automated alerts.
Administrator Activity Logs
Get insights into the activities performed by administrators on the Scalefusion dashboard.
Obtain Device Health Reports
Select device parameters that you want to keep a track of. Receive comprehensive reports for each.
Out of the box enrollment
Drive OOB enrollment with Android Zero-touch, Apple DEP and Windows Autopilot program for Android, Apple and Windows devices respectively.
Bulk Enrollment
Enable bulk enrollment by uploading CSV of IMEI numbers and Serial numbers on Scalefusion dashboard.
QR code-based Enrollment
Streamline device setup in a few simple steps. Enable enrollment by simply scanning a QR received over email.
AD-based Enrollment
Integrate Office 365, Azure or G Suite Active Directory to the Scalefusion dashboard. Add and invite users to device management.
EMM Token Enrollment (AFW#)
Enroll company-owned Android devices when they are unboxed or after a factory reset. Perform six taps on the device screen and scan a QR Code.
Samsung KME-based Enrollment
Streamline enrollment of Samsung devices with KME-based enrollment. Easily roll out policy configurations and automatically enroll devices in bulk.
Digital Signage Software
Hasslefree management of Digital Signage Kiosks
Manage your indoor and outdoor digital signage kiosks with Scalefusion MDM. Lock devices to a single browser tab, application, or presentation loop. Make and push content presentations directly from the Scalefusion Dashboard.
Run presentations using Scalefusion Presentation Mode.

Remotely cast and control devices for remote troubleshooting.
Remote Application Management
Seamless App Distribution and Management with Kiosk Mode Software
Push business apps with ease. Install applications from App Store, Google Play Store, Windows Business Store via the Scalefusion dashboard.
Install in-house apps by uploading APK files, IPA files, PList links, PKG files, UWP files or MSI files on the Scalefusion Enterprise Store. Publish, delete or update apps without any end-user intervention.
Kiosk Software with Remote Control
Enable Remote Cast & Control to Troubleshoot Devices Easily with Remote Kiosk Management
Quickly resolve device issues and reduce device downtime with Remote Cast and Control. On select Android OEMs and Windows devices, mirror and take control of the device screens, perform actions and resolve issues, faster. On iOS devices, mirror device screens and resolve device issues remotely.
Take screenshots, record screen sessions and create context-aware support tickets on integrated ITSM platforms.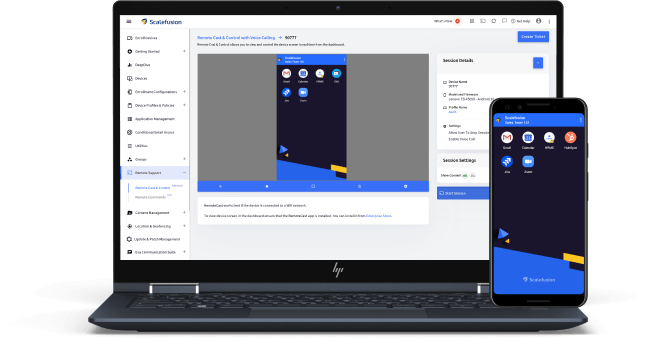 Remotely Lock Any Devices in Single or Multi-Purpose Kiosk Mode
Why Choose Scalefusion Kiosk Management Software?
Our Kiosk software is user-centric, crusading to help businesses generate measurable growth, improved efficiency & reduced costs with mobility.
Réduisez les coûts, augmentez la
productivité
Maintenez les performances des appareils pour améliorer la productivité en résolvant les problèmes des appareils à distance.
Réduction du travail manuel
en matière d'informatique
Approvisionnez les appareils en masse, améliorez la productivité informatique en automatisant les contrôles de conformité et les alertes de sécurité basés sur les données.
Commencez à gérer les appareils en
20 minutes
Une solution facile à utiliser avec une courbe d'apprentissage courte, facilitée par un support de premier plan dans le secteur pour garantir une mise sur le marché plus rapide.
8000+
Les entreprises du monde entier font confiance à Scalefusion pour gérer leur mobilité
"Nous avons obtenu la meilleure solution de gestion des appareils mobiles (MDM) qui répond à tous nos besoins professionnels. Je pense que Scalefusion peut être décrit en 3 mots : Sécurisé, Robuste et Évolutif."
"Scalefusion s'est avéré être la meilleure solution possible qui nous a fourni tout ce que nous attendions du produit pour verrouiller les appareils de nos conducteurs. Il est efficace, facile à utiliser et assure parfaitement son rôle."
"Nous avons remarqué que Scalefusion faisait tout ce que notre solution précédente faisait, et ce, de manière très rentable. La solution s'est avérée être la réponse la plus appropriée aux problèmes que nous cherchions à éliminer et Scalefusion nous a sans doute aidés à atténuer certains de nos problèmes et défis les plus critiques en matière de gestion des dispositifs."
Previous
Next
A Kiosk Software for Myriad Industries
Scalefusion Kiosk Software helps organizations across industries to stay ahead of the curve by enhancing their productivity & performance with the use of digital devices.
Logistics
Restrict access to unwanted apps & videos streaming on company-owned devices using Kiosk Lockdown App, track the device location in real-time.
Retail
Manage your tablets, smartphones & point of sales (POS) devices with Scalefusion by giving control to the admin to remotely enable/disable the app on the device.
Education
Prevent students from playing games or watching videos on school-owned devices in the classroom to make the learning experience more exciting & engaging.
SMBs, Mid-Market and Large Enterprises Find Value in Scalefusion
Companies and organizations of all sizes use Scalefusion to manage their devices and endpoints in an easy way. Be it thousand, hundred thousand or a million devices, Scalefusion is robust enough to handle these device volumes and deployment complexities.
Frequently Asked Questions