Secure Linux Management Software
Linux Device Management Solution for Laptops and Desktops
Experience Linux MDM powered with simplicity. Everything you need to provision, secure and monitor your Linux laptops & PCs is delivered right at your fingertips.
Les plus grandes entreprises du monde nous font confiance
Manage all Linux devices with one simple platform
Desktops
Laptops
Tablets
Point of Sale
Raspberry Pi
Flexible Linux Device Management for Ubuntu & Other Debian Distributions
Take device management to the next level by gaining granular control with diverse management modes. Set Linux devices in motion without hampering the user experience. Control USB peripherals, execute crucial actions remotely, and effortlessly configure wifi and password policies - all from the same user-friendly dashboard you know and adore!
Vital Device Information: Get all the vital device related information of your linux device inventory in a go.

Perform Critical Actions: Perform Critical device actions such as reboot, shutdown and wipe straight from the dashboard.

Granular Control: Gain granular control like USB management and Wifi Configuration over the managed devices.
Device Profiles
Create policy groups that can be utilized across various devices to simplify device management. Set up policies for USB devices and Wi-Fi settings, and distribute them to multiple devices.
Enrollment Configurations
Create a mass enrollment configuration and generate an enrollment command that can be utilized on one or numerous devices to register them with Scalefusion.
Device Inventory Insights
Get an overview of all the devices being managed and their important information, such as Wi-Fi connection status, time zone, battery percentage, RAM usage, IP address, and more.
Password Policy
Secure your managed devices by applying a password policy by setting password rules like password type, minimum length, minimum digits, password expiry, etc. and forcing the users to set a secure password.
Perform Remote Actions
Remotely reboot, shut down, or factory reset the device using the Scalefusion dashboard and accelerate operational speed.
Linux Shell Scripts
Upload bash scripts and deploy them to the managed devices, and access a comprehensive output that facilitates easy administration tasks.
Groups
Group your devices based on your organizational units and attach a Linux profile to manage all of the devices using the same policy for all devices in the group.
Secure Linux Management Software
Run Linux Scripts Remotely
You can execute Linux scripts to perform any operation on a remote Linux device just like how you would do if it was right in front of you.
Simplified Enrollment for Linux Devices
Speed up policy application on the devices with simple device enrollment. Easily enroll Linux devices with script-based enrollment.
Coming Soon
Say No to Device Downtime With
Scalefusion Remote Support
Reduce device downtime, improve employee productivity. Mirror remote Linux devices screens and take control to resolve device issues. Extend rapid fixes and create support tickets on integrated ITSM platforms.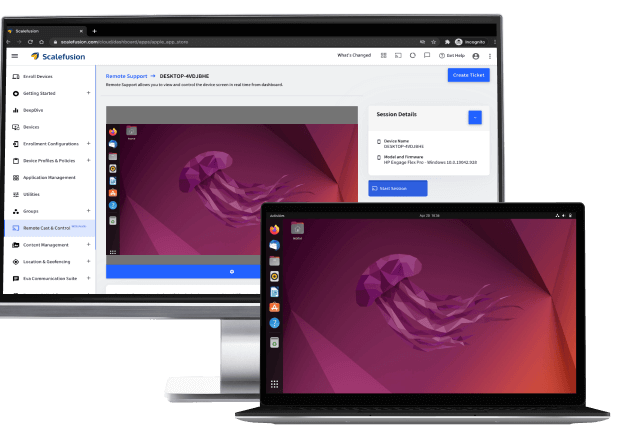 Experience Linux Device Management Driven by Simplicity
Get Quick and Deep Insights Into Your Device Inventory
Replace your cumbersome Linux device management solution with Scalefusion. Our clutter-free dashboard makes it extremely easy to manage your Linux devices and endpoints and to perform day to day operations.
See what Scalefusion Linux Management is all about
Other Supported Platforms
Frequently Asked Questions
Experience the Linux Management Built To Make IT Teams Life Easier