Bibliothèque de ressources Scalefusion
Fiche de données
Gestion sans effort des appareils mobiles et des terminaux
Le logiciel de gestion des appareils mobiles (MDM) Scalefusion donne à vos équipes informatiques la visibilité et le contrôle nécessaires pour sécuriser, gérer et surveiller tous les appareils appartenant à l'entreprise ou aux employés qui accèdent aux données de l'entreprise.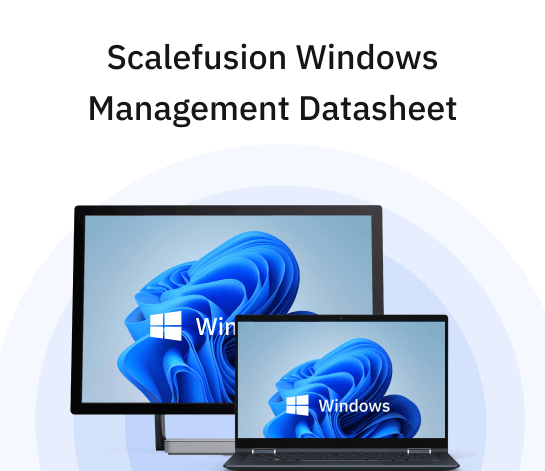 Livre électronique
Guide d'achat de la gestion des appareils mobiles
Le choix de la bonne solution MDM pour votre entreprise est crucial. Ce guide de l'acheteur vous guidera tout au long du processus de sélection de la bonne solution adaptée à votre organisation.
Étude de cas
Scalefusion a aidé Wineworks à sécuriser ses appareils Android et iOS avec compétence
Scalefusion a été initialement déployé dans une zone de test spécifique pour vérifier le fonctionnement des parametres. WineWorks voulait verifier si son personnel pouvait sortir du mode kiosque pour accéder à des applications et des sites restreints. À leur grand soulagement, Scalefusion a réussi à verrouiller leurs tablettes Android et les rend complètement fonctionnels et sécurisés.
Livre blanc
Scalefusion pour BFSI
Le secteur BFSI modifie rapidement ses opérations. Ce livre blanc définit les défis auxquels est confronté le BFSI moderne et comment Scalefusion MDM peut aider à atténuer ces défis. Le BFSI
E-book
Best Practices to Implement Endpoint Management for Windows
Implementing effective endpoint management for Windows is crucial for organizations to maintain security, optimize performance, and streamline operations. Get a deeper understanding and best practices to implement effective endpoint management for Windows.