Best Kiosk Mode for Android
Transform Smartphones & Tablets into Dedicated Devices With Android Kiosk Mode
Android Kiosk Mode allows IT admins to lockdown any devices into single app or multi-app kiosk and block unauthorized access & limit excess data costs.
Try for Free
Schedule a Demo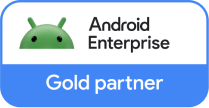 Trusted by World's Leading Companies
Lock Android Devices Into Single App and Multi App Mode
Control the apps enabled or disabled on the devices. Lock devices into single or multi-app Android kiosk mode for dedicated business use.
Multi App Kiosk Mode: Multi App mode enables you to allow two or more apps on the Android device, blocking the rest. Ideal for customer-facing and frontline use-cases.

Single App Kiosk Mode: Single App Mode locks the device to a single application. Block hardware keys, navigation and make the device run exclusively for your business.

Custom Branding: Make an impression by reflecting your company branding on your kiosk devices. Customize wallpapers, color schemes and app icon sizes.
Key Features of Kiosk Mode in Android
Device Monitoring
Location and Geofencing
Track location in real-time. Create geofences and get notifications whenever devices move within a geofence.
Reports
Generate reports for device usage, performance and users activity. Take data-driven actions to upkeep device performance.
Device Vital Monitoring
Monitor device vitals including battery, data and storage usage. Monitor security incidents and downtimes.
Remote Wipe
Remotely wipe-off device data on lost, stolen or retired devices. On BYOD, remotely wipe off the work container.
Robust/ Comprehensive
Security
Prevent Factory Reset
Allow only certain Google accounts to sign-in to the device after factory reset.
Prevent Screenshot
Block employees from taking screenshots of work apps on BYO devices. Prevent copying between personal & work apps.
Speed Based Policy
Focus on user safety. Lock the device if the user moves faster than the defined speed limit.
Data Loss Prevention
Keep your focus on data security. Apply extensive DLP policies to protect corporate data.
Block Hardware Buttons
On kiosk devices, block hardware and navigation keys.
Prevent SD Card from Factory Reset
Factory reset your Android device while preserving SD card content, ensuring seamless device management without data loss.
SafetyNet Attestation
Assess device integrity on BYO devices to ensure device compatibility & security.
Data Protection on BYOD
Prevent copying between personal & work apps.
Enhanced Device Management
Corporate Device Sharing
Allow convenient sharing of company-owned Android devices among employees. Automatically switch device profile and policy according to the specific user's settings.
Email & Exchange
Help your employees connect over work email. Configure email and exchange settings.
Browser Management
Block access to non-business websites. Configure browser settings for added security.
Content Management
Turn your devices into digital signage. Create and publish interactive content, presentations and documents.
Wi-Fi & Hotspot
Enable remote working with secure internet access. Push secure Wi-Fi, hotspot and network settings.
OS Update Management
Configure sync intervals and view available OS updates on all managed Android devices.
What is Android Kiosk Mode
Android kiosk mode is an MDM feature that enables IT admins to lock down a device into a single or multi-app mode, allowing the devices to function as kiosks. Android kiosks are dedicated devices that restrict users from changing any device settings.
Phones & Tablets
Rugged Devices
PoS
Android TV
Kindle
Business Apps Bundled With Your Android Kiosk Mode App
Manage the entire lifecycle of Android apps in your business. Push and delete mission-critical applications as per the organization's operational needs with Scalefusion Application Management. Elevate the workforce productivity and reduce corporate asset risks exponentially.
Managed Play Store: Install PWAs and business apps directly from Google Play Store.

Scalefusion Enterprise Store: Add and publish in-house and externally sourced apps through Android APK files uploading on the Scalefusion dashboard.
Install
Remote app installation without end-user intervention. Schedule app publishing.
Update
Schedule app publishing and updates.
App Config
Configure app settings to suit your needs.
App Delegation
Give 3rd-party apps extra privileges and delegate tasks such as block uninstall, certificate installation etc.
Block Components
Configure packages or specific screens within the allowed applications that should be blocked.
App Update Configuration
Configure Application Update settings at the profile level instead of having the same policies for all devices.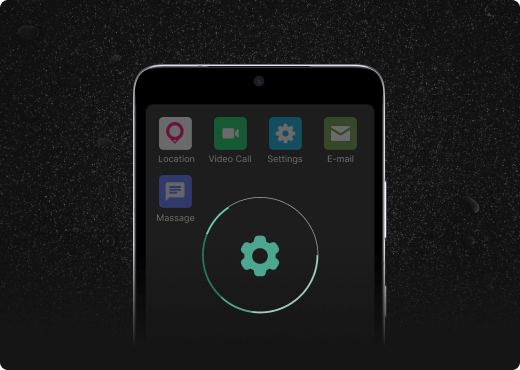 Enterprise App Configuration
Streamline Enterprise App Configuration with Ease
Configure and customize your organization's enterprise applications seamlessly with Enterprise App Configuration. Take control of Enterprise app settings. Set up and push configurations to enrolled devices. Simplify app management and enhance productivity within your organization with Enterprise App Configuration.
Android Kiosk Mode with Remote Cast & Control
Remotely monitor and capture the terminal Android mobile screens of the devices in real-time. With the Remote Cast and Control feature of Scalefusion, instantly troubleshoot and enhance the productivity of the on-field workforce to reduce the downtime IT costs.
VOIP Calling
Troubleshoot errors step by step with the remote workforce over VoIP calls.
File Sync
Upload, delete or access any device files directly from the dashboard. Sync the changes with a single click.
Support Tickets
Upload context assistance requirement tickets on the integrated ITSM tools.
Secure Android Kiosk Mode
Advanced Security for your Android Kiosk Devices
Enforce security policies and access controls to safeguard company data on Android Kiosk devices used for work. Conduct security and compliance checks with ease.
Factory Reset Protection (FRP)
Implement FRP (Factory Reset Protection) on Android EMM (Enterprise Mobility Management) devices, which will restrict only authorized Google accounts to set up the device after factory reset.
Remote Wipe-off
Erase data from lost or retired Android Kiosk devices remotely. Selectively remove corporate data from devices.
SafetyNet Attestation
Scalefusion supports Google SafetyNet Attestation. Validate devices in Android Kiosk Mode for integrity, security and compatibility.
Data Loss Prevention
Extend DLP by controlling the network and sharing settings. Prevent users from copying data from work devices.
Passcode Policy Enforcement
Implement passcode requirements on enterprise devices by specifying the type of password and the level of complexity needed. Determine the frequency at which the passcodes must be changed to enhance security.
Certificate Management
Ensure the security of devices when they are connected to unknown networks. Install digital certificates for device authentication on Android Kiosk devices, which can be uploaded and pushed to the devices.
VPN Configuration
Remotely set up a secure VPN for accessing corporate networks and data on Android Kiosk devices using either native protocols or third-party providers through the Scalefusion dashboard.
Location & Geofencing
Track the Device's Real-time Location and Monitor Geofence in Android Kiosk Mode
With Scalefusion Android Kiosk Mode, track real-time location of Android Kiosk devices to facilitate efficient device inventory management. Create geofences, and alerts are sent when a device enters or leaves the designated area, ensuring employees are in the correct location at the appropriate time.

Compliance-Ready Android Kiosk Solution
Scalefusion complies with industry-specific regulations such as GDPR, SOC 2, and HIPAA, protecting your sensitive information and data. With Scalefusion, you can trust that your devices and data are secure, and you can have peace of mind knowing that you are in compliance with relevant regulations.
Android Kiosk Mode for Different Industries and Needs
Scalefusion Android Kiosk Mode provides a variety of customizations to cater to different scenarios. Transform your business operations, improve workforce productivity, and take control of Android devices without losing user experience.
Transport & Logistics
Retail
Education
Healthcare
Manufacturing
Government
Construction
Hospitality
Service Sector
Financial Services
Oil & Gas Mining
Software & Telecom
Cerberu
Scalefusion Helped Cerberu Save Exponential Data Costs to Run Their Digital Check-in Application
Family Market
Scalefusion Helps Family Market Save Time and Achieve Flexibility
Fujirebio
Fujirebio Manages Corporate-Owned Android devices with Scalefusion
Official Android EMM Partner
Successfully Deployed Millions of EMM Devices
Full device
management
Work profile
management
Dedicated device
management
Rugged device
management
Frequently Asked Questions