Android Kiosk Software
Lockdown Android Devices in Kiosk Mode & Block Unauthorized Access
Kiosk Lockdown Software allows IT admins to secure & manage Android devices into single app or multi-app kiosk mode to prevent device misuse and excessive data costs.
Try for Free
Schedule a Demo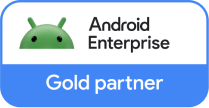 Trusted by World's Leading Companies
Lockdown Android Devices Into Kiosk Mode (Single & Multi App Mode)
Scalefusion Android Kiosk Software locks down your devices into kiosk mode and gives you control over which apps are to be enabled or disabled on the devices.
Lock Tablet to Multi App Mode: Restrict the Android kiosk device to run only specific applications allowed by the IT admin.

Lock Tablet to One App Mode: Configure Android kiosks to run a single application deployed for diverse use-cases.

Lockdown Browser: Configure browser settings on Android kiosk, providing access to whitelisted websites only.
Lockdown Any Device Running Android OS
Our Android Kiosk Lockdown Software allows to manage various types of devices running Android OS 4.0.3 & above
Deploy, Secure & Manage Multiple Android Devices
Provision devices used by your employees and fieldforce with business apps and content. Quickly enroll devices in single or multi-app mode using Android Tablet Kiosk mode. Prevent distractions, increase productivity.
Pave Way for Learning With Kindle Fire
Help students learn in like never before. Manage Kindle Fire devices with Scalefusion Kiosk Apps. Lock the devices to educational apps and unleash the creativity within students!
Turn Your Android TV Box Into Digital Signage
With Scalefusion Kiosk App, run interactive ads and engaging content on your Android TV. Stream videos and presentation on TV boxes and TV sticks powered by Android.
mPOS Management Made Simple
Using Scalefusion Kiosk App, secure and manage Android-based POS from a cloud-based dashboard. Scale your retail and fasten payments using modern POS systems locked into single-app mode.
Promote Device Performance in Tough Environments
Configure rugged devices designed to work in extreme weather and harsh environments. Provision business apps and content, create security and usage settings to optimize the operations and performance of Android rugged devices using Scalefusion Kiosk mode.
Remote Application Management
Seamless App Distribution and Management
Enable your employees to do more with Android devices. Power Android devices used for business with latest applications. Restrict app downloads on the user-end to minimize distractions and security threats.
Managed Play Store: Distribute business apps and PWAs from Google Play Store.

Scalefusion Enterprise Store: Publish private apps on devices by uploading Android APK on the Scalefusion dashboard.
Install
Remote app installation without end-user intervention. Schedule app publishing.
Update
Schedule app publishing and updates.
App Config
Configure app settings to suit your needs.
App Delegation
Give 3rd-party apps extra privileges and delegate tasks such as block uninstall, certificate installation etc.
Block Components
Configure packages or specific screens within the allowed applications that should be blocked.
App Update Configuration
Configure Application Update settings at the profile level instead of having the same policies for all devices.
Kiosk Lockdown Software with Remote Control
Device Troubleshooting Made Easy
Don't lose business productivity caused by device errors. Remotely troubleshoot device issues and shorten device downtime for remote workforce and frontline employees. Mirror device screens on the dashboard and on select devices, take screen control.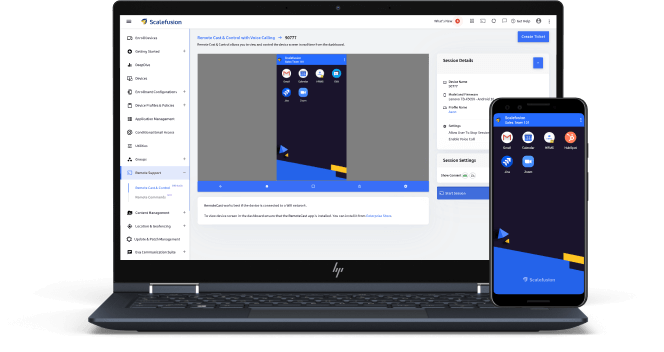 VOIP Calling
Extend step-by-step guidelines to resolve device issues.
File Sync
Sync device files, push or delete files and setup files.
Support Tickets
Create context-aware support tickets on integrated ITSM tool.
Key Benefits and Advantages of Scalefusion Kiosk Lockdown Solution
Leverage ease-of-use provided by devices your employees are familiar with! Amplify employee productivity by providing seamless, secure access to business apps and resources with Scalefusion.
Restrict devices for business use to selected apps and websites

Reduce data costs by preventing access to non-business websites

Ensure user data privacy by enforcing incognito mode

Track device performance, battery, data usage and compliance violations

Remote cast device screens to troubleshoot issues on unattended kiosks
Our Kiosk Lockdown Software is Perfect for Diverse Industry Verticals
Make the most of your mobile devices and endpoints across industries with Kiosk Lockdown Solution. Transform business operations, improve workforce productivity and take control of remote operations with Scalefusion.
Education
Prevent students from playing games or watching videos on school-owned devices in the classroom to make the learning experience more exciting & engaging.
Retail
Manage your tablets, smartphones & point of sales (POS) devices with Scalefusion by giving control to the admin to remotely enable/disable the app on the device.
Logistics
Restrict access to unwanted apps & videos streaming on company-owned devices using Kiosk App, track the device location in real-time.
Official Android EMM Partner
Successfully Deployed Millions of EMM Devices
Full device
management
Work profile
management
Dedicated device
management
Rugged device
management
Frequently Asked Questions
A kiosk lockdown is a security measure that restricts the functionality of a device to a single application or a set of pre-approved applications. This is commonly used in public places such as museums, airports, and retail stores to prevent users from accessing other applications or changing system settings. In a kiosk lockdown, the device is configured to run in a kiosk mode, which limits user interaction and restricts access to the device's underlying operating system.
Kiosk apps are designed for controlled interactive sessions between a kiosk mode device and end users. A kiosk app is responsible for controlling the user interface and managing the kiosk's functions and capabilities. Any interactions outside the preset configurations cannot be executed when devices run in kiosk mode. Kiosk apps provide an efficient and cost-effective way for businesses to offer customers self-service options while improving the overall customer experience. Kiosk apps help run corporate devices in single or multi-app mode, which are useful in numerous settings such as education, healthcare, retail, etc.
Android kiosk software is designed to lock Android devices and turn them into kiosks or digital signage displays. This helps IT admins control and restrict access to specific applications, websites, and device settings, ensuring Android devices operate in a secure and controlled environment.