Windows MDM Software
Windows Device Management Solution for Laptops and Desktops
Experience Windows MDM powered by simplicity. Everything you need to provision, secure, and monitor your Windows laptops and PCs, delivered right at your fingertips.
Нам доверяют ведущие мировые компании
One Solution for Managing All Windows Devices with Ease
Managing all Windows devices in one platform. With Scalefusion, you can easily manage and monitor your Windows endpoints from a centralized dashboard, streamlining your management process and increasing efficiency. Scalefusion simplifies management for all device types including Laptops, Desktops, Phone & Tablets, Point of Sale devices and Digital Signages.
Desktops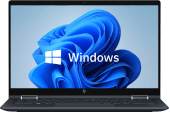 Laptops
Phone & Tablets
Point of Sale
Digital Signages
Windows Patch Management
Up-to-date devices with Automated Patch Management
Keep your Windows devices updated with the latest OS patches. Identify Windows OS patches that can address security vulnerabilities and apply them remotely.
Create patch schedules for software and driver updates

Automatically apply them on your remote workstations

Keep a track of applied patches with advanced reporting
Windows MDM Key Features
Leverage a wide range of features for robust Windows device management. Manage your Windows endpoints and secure your corporate data with Scalefusion MDM for Windows.
Restart Devices
Control auto-updates on your Windows endpoints. Schedule OS updates, let them auto-install, and restart devices from the dashboard.
Conditional Email Access
Scalefusion supports Conditional Email Access for Exchange Online, IceWarp, and Exchange On-Premise to safeguard your corporate email data.
Security
Configure BitLocker encryption. Mandate passwords and control peripheral access on devices to secure your corporate data.
Connectivity
Secure access to corporate data and networks. Create Wi-Fi configurations and VPN settings.
Certificate Management
Push digital certificates for authentication and provide digital identities onto devices without end-user interaction.
Email and Exchange Settings
Enable employees to quickly access work emails. Push Email and Exchange configuration for your managed devices.
PowerShell Scripting
Scalefusion provides PowerShell scripting tool for simplifying configuration, automating tasks, and carrying out administrative tasks with more ease.
Intel vPro AMT Integration
Remotely control your Windows devices even when the OS is down or the device is powered off with Scalefusion's integration with Intel vPro AMT Integration.
Browser Configuration
Scalefusion MDM offers configuration settings for Google Chrome and Microsoft Edge browsers. IT admins can customize the startup settings, bookmarks, cookie policies, and other privacy settings.
Lost Mode
Protect lost or stolen Windows devices by marking the device as lost and locking the device for all users, displaying a customized message and a phone number, enabling easy recovery.
Windows Defender
Streamline the configuration of Windows Defender policies for your managed Windows devices with Scalefusion MDM.
Windows Hello
IT admins can use this integration to enable Windows Hello-based access and add an extra layer of security to the managed Windows devices.
Flexible Windows Device Management Software for Laptops and PC's
Gain granular controls and take your device management to the next level. Set Windows 10 and Windows 11 devices in motion without hampering the user experience. Configure your Windows 7 and 8.1 devices to run in single or multi-app kiosk mode with the Scalefusion MDM agent.
Windows Single App Kiosk Mode: Lock the Windows devices to a single application, blocking the rest. Ideal for frontline, POS and digital signage use-cases.

Windows Multi App Kiosk Mode: Enable only select apps on the device. Ensure security and avoid misuse of devices for non-business purposes.

Custom Management: Extend fully-equipped devices to your employees. Exercise limited control over app downloads and usage.
Automated Third-Party App Patching
Protect your Windows devices against vulnerabilities in your third-party applications with Scalefusion Automated Third-Party Application Patching. Deploy patches remotely and keep your devices safe and secure from potential threats.
Schedule App Updates
Configure how frequently the Scalefusion agent checks for application updates on the managed devices.
Configure Update Sync Interval
Define the update frequency and time window for cumulative updates without hampering daily tasks.
Improve Visibility
Generate extensive reports on all applications and updated devices.
Windows App Catalog
Efficient App Access and Updates with Windows App Catalog
With Windows App Catalog, install and manage apps on your managed devices, ensuring users have access to the right apps.
Seamlessly deploy, update, and remove applications on managed Windows devices, saving time and effort in app management.
Location Tracking
Secure and Monitor Your Windows Devices with Near Real Time Location Tracking
Monitor location of your Windows devices in real-time, ensuring that they're being used in designated areas and minimize the risk of loss or theft. Using near real-time location tracking, get accurate locations, view device location history, and create geofences to ensure that your devices are being used in designated areas.
Say No to Device Downtime with Scalefusion Remote Control
Reduce device downtime and improve employee productivity. Mirror Windows devices remotely and take control to resolve device issues. Extend rapid fixes and create support tickets on integrated ITSM platforms.
Unattended Remote Cast and Control
Take control of your devices remotely. Capture Screenshots and record the Screen for future use.
ITSM Integration
Integrate ITSM tools like JIRA and FreshService with Scalefusion and raise Support tickets directly from the remote cast session.
Intel vPro
Leverage the hardware-based features of Intel AMT (Active Management Technology) to remotely access and control Windows devices, even if the device is off.
Secure Windows Management Solution
Advanced Security Options for your Windows Deployment
Secure Windows devices deployed for work. Enforce security policies and access control to protect corporate data on company-owned and employee-owned devices. Extend effortless checks and alerts for security and compliance.
Enforce
Passwords
Set password complexity and type to ensure access control. Select an idle timeout to auto-lock the screen when unattended.
BitLocker
Encryption
Encrypt device hard disks to protect data from theft or exposure on lost, stolen, or retired computers.
Conditional
Access
Protect user information on BYO PCs. Define the apps and cloud data that can be accessed from the device.
Restrict Peripheral
Usage
Allow or disallow users from using peripherals like USB ports, Bluetooth devices, etc.
Case Study Compendium
Case Study Compendium
The Windows Case Study Compendium showcases how Scalefusion Windows Device Management helped different businesses overcome challenges and improve operations. The four case studies cover varied industries , offering valuable insights into the versatility of Scalefusion Windows MDM.
Bulk Enrollment,
Simplified
Make your Windows devices business ready in moments. Scalefusion offers multiple enrollment methods for individual device enrollment and also bulk enrollment.
Autopilot: Enable Zero-Touch device provisioning without any manual involvement. Windows Autopilot helps IT admins provision devices out of the box for the end users.

User Based Enrollment: Sync your Office 365 AD or G Suite and make device provisioning faster and easier.
Intel vPro and Scalefusion: A Powerful Combination for Remote PC Management
Scalefusion allows you to remotely manage and extend support to Windows devices. Integrating with Intel vPro, Scalefusion enables you to use the hardware-based features of Intel AMT (Active Management Technology) to remotely access and control Windows devices, even if the device is off.
Unattended Remote Control
Remote Power On, wake and reboot device
Basic Input/Output System (BIOS) Boot
Application Distribution and Management
Deliver Business Apps for
Windows
Accelerate workforce productivity with relevant business apps. Don't let distractions get in the way of productivity. Allow or block apps on managed Windows devices. Silently install or uninstall apps anytime.
Windows Business Store
Publish apps by integrating Windows Business Store on Scalefusion.
Enterprise Store
Publish private Win32 apps and APPX bundles using Scalefusion enterprise store.
View Status
Track application version and installation status.
Application Blacklisting for Distraction-Free Work
Restrict usage of non-business apps on the devices. Blacklist the apps that do not fit your enterprise security profile.
Get Quick and Deep Insights into Your Device Inventory
Replace your cumbersome Windows MDM solution with Scalefusion. Our clutter-free dashboard makes it extremely easy to manage your Windows devices and endpoints and to perform day to day operations.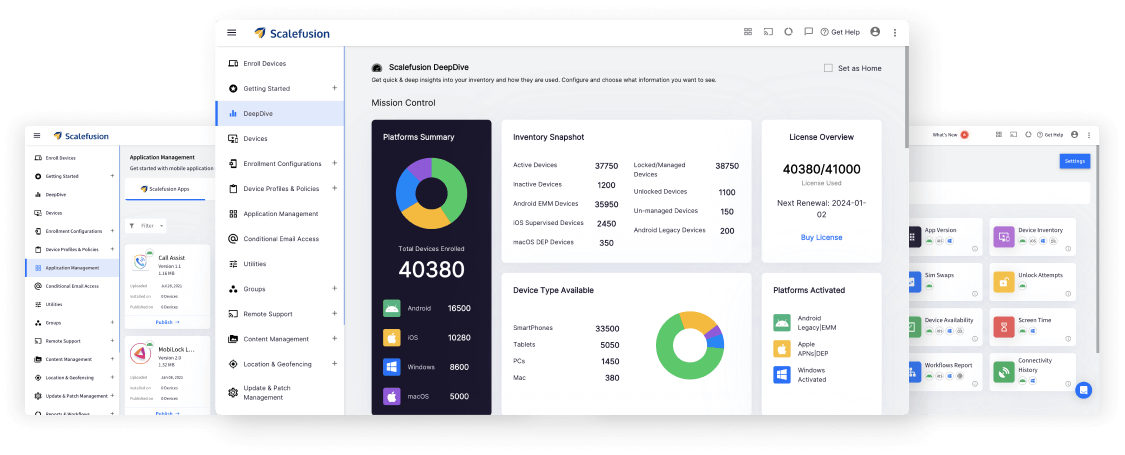 Fine-Tune a Secure Browsing Experience
on your Windows Devices
Apply and control browser-level security settings and policies for Edge
and Chrome browsers.
Whitelist: Enable the websites that you want your end users to access and block all other websites.

Blacklist: Restrict your users from accessing a specified set of websites and give access to all other websites.

Cookie Policy: Manage the cookie policy for your managed devices or leave them at the end user's discretion.

Extensions and Bookmarks: You can configure business necessary extensions and bookmarks for easy access.
Frequently Asked Questions