Android EMM Solution
Android Enterprise Management (Android EMM) Solution for a Modern Workforce
Modern businesses need diverse device types for varied use-cases. Manage them all with a single Android EMM Solution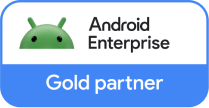 Confiado por las empresas líderes del mundo
Support Different Android Enterprise
Management Modes
Complete Device Management
The go-to choice while deploying Android enterprise recommended devices to suit your business needs and have maximum data security.
Gain Complete Control over Devices

Lock and Wipe Device Remotely

Publish, Update and Configure Apps
Work Profile
Enable your Employees to choose their preferred device. Apply Bring Your Own Device (BYOD) policies to work containers.
Control only Corporate Data

Deploy Apps to Work Profile Only

Containerize Work and Personal Data
software de gestión de Android
Lleva la potencia de Android a tu empresa: gestiona cualquier endpoint que funcione con Android
Teléfono y tableta

Resistente y portátil
Punto de venta
Quiosco Interactivo
Señalización Digital
Dispositivo Personalizado
Key Features of Android Enterprise Mobility Management
Device Monitoring
Location and Geofencing
Monitor the current location of devices in real-time, establish geofences, and receive alerts whenever the devices cross the boundaries of the geofences.
Reports
Create detailed reports for device usage, performance, and user activity. Take data-driven actions and maintain optimal device performance.
Device Vital Monitoring
Keep track of the essential indicators of device performance, such as battery life, data usage, and storage capacity. Also, monitor any security breaches or system downtime incidents.
Remote Wipe
Erase the data from lost, stolen, or decommissioned devices remotely. In the case of Bring Your Own Device (BYOD), delete the work container from the device remotely.
Robust/ Comprehensive
Security
Prevent Factory Reset
Restrict device access to only specific Google accounts for sign-in, after factory reset.
Prevent Screenshot
Restrict BYO device users from taking work app screenshots and copying data between personal and work apps.
Speed Based Policy
Prioritize user safety by automatically locking the device if the user exceeds a predetermined speed limit.
Data Loss Prevention
Maintain strong data security by implementing comprehensive Data Loss Prevention (DLP) policies to safeguard corporate data.
Block Hardware Buttons
Disable hardware and navigation keys on kiosk devices.
SafetyNet Attestation
Evaluate the integrity of Bring Your Own (BYO) devices to guarantee device compatibility and security.
Data Protection on BYOD
Prevent data copying between personal & work apps.
Enhanced Device Management
Content Management
Turn your devices into digital signage. Create and publish interactive content, presentations and documents.
Email & Exchange
Assist your employees in connecting via work email by configuring email and exchange settings.
Browser Management
Prohibit access to non-business websites and configure browser settings to enhance security.
Wi-Fi & Hotspot
Facilitate remote work by providing secure internet access. Push secure Wi-Fi, hotspot and network settings.
Device Enrollment in Minutes with Android EMM Provider
Make Manual Device Enrollment a thing of the past with easy mass deployment process for Android devices using Scalefusion streamlined Enrollment solutions.
Android EMM Enrollment
Users can enroll devices that are out-of-the-box when the device prompts to enter your Gmail account, then enter afw#mobilock and tap Next.
Zero-Touch Enrollment
Get a fleet of devices enrolled with Android Enterprise Mobility Managed account, allowing organizations to mobilize devices with ease.
QR Based Enrollment
Enterprise Administrator can configure QR code with device policy & restrictions then send invitations via email to get devices enrolled.
Official Android EMM Partner
Successfully Deployed Millions of EMM Devices
Full device
management
Work profile
management
Dedicated device
management
Rugged device
management
Mobile Application Management Done Right with Android EMM Solution
With Application Management, you can manage and deploy applications through Managed Google Play and securely distribute in-house apps to devices using the Scalefusion Enterprise Store.
Managed Play Store: Deploy Business Apps and Progressive Web Apps (PWAs) directly and silently via Google Play Store.

Scalefusion Enterprise Store: Seamlessly push private apps to devices by uploading Android APKs on the Scalefusion dashboard.
Install
Instantly push or schedule app installation remotely and silently.
Update
Update apps to their latest version remotely
Configure Apps
Configure Apps for your specific needs
Remote Cast and Control made Easy with Scalefusion Android EMM Software
Avoid productivity loss due to device malfunctions by remotely diagnosing and resolving device issues, thereby reducing downtime for remote and frontline workers. Display device screens on the dashboard and take control of the screen for faster support.
VoIP Calling
Guide users over a VoIP Call to address device issues
File Sync
Sync device files, push or delete files and setup files
Create Support Tickets
Attach screenshots and recordings to create context-aware support tickets with ITSM integrations
Secure Android Enterprise Management
Enhanced security for your Android Endpoints
Ensure the security of corporate data on Android devices utilized for work by enforcing access controls and security policies. Safeguard both company-owned and employee-owned devices. Conduct security and compliance evaluations seamlessly.
Factory Reset Protection (FRP)
Enable Factory Reset Protection (FRP) on Android EMM devices and restrict device setup to only designated Google accounts following a factory reset.
Remote Wipe-off
Erase data remotely on lost or decommissioned devices, and selectively remove corporate data on employee-owned devices.
SafetyNet Attestation
Scalefusion is a robust solution that supports Google SafetyNet Attestation, enabling organizations to verify the integrity, security, and compatibility of Android devices owned by employees.
Data Loss Prevention
Enhance your Data Loss Prevention (DLP) measures by managing network and sharing settings, and restrict users from transferring data between work apps and personal apps on BYO devices.
Passcode Policy Enforcement
Strengthen the security of enterprise devices by mandating passcodes and setting criteria for password complexity and type. Specify how frequently the passcodes should be changed to ensure optimum security measures.
Certificate Management
Ensure the security of devices that operate on unfamiliar networks by uploading and distributing digital certificates that enable device authentication on Android devices.
VPN Configuration
Guarantee secure access to corporate networks and data by remotely configuring VPN on devices. Selecting either native protocols for VPN or a third-party VPN provider through the Scalefusion dashboard.
Location & Geofencing
Monitor Device Movement and Geo-fence in Real Time
With Scalefusion Android EMM Tool, businesses can track the real-time location of Android devices for better inventory management. By using geofencing, organizations with field employees can establish virtual boundaries on a map and receive alerts when a device enters or exits the designated area, ensuring that employees are present at the appropriate location at the right time.

Compliance-Ready Android EMM Solution
Scalefusion adheres to industry-specific regulations such as GDPR, SOC 2, and HIPAA, ensuring the security of sensitive data and devices. You can rely on Scalefusion to maintain compliance with regulatory standards and safeguard your data.
Frequently Asked Questions