Gestion des appareils Android
Logiciel de gestion des appareils Android conçu pour les équipes informatiques
Sécurisez et gérez vos appareils Android avec Scalefusion. Configurez les restrictions, les applications et les paramètres d'entreprise et déployez-les sur les appareils en toute simplicité.
Les plus grandes entreprises du monde nous font confiance
Transformez n'importe quel appareil Android en kiosque.
Concentrez-vous sur ce qui compte le plus.
Prenez en charge un large éventail de scénarios d'entreprise. Explorez les différentes capacités de gestion d'Android pour le verrouillage des kiosques.
Mode kiosque multi applications : Le mode multi applications vous permet d'autoriser deux ou plusieurs applications sur l'appareil Android, en bloquant le reste. Idéal pour les cas d'utilisation en contact avec la clientèle et en première ligne.

Mode kiosque à application unique: Le mode à application unique verrouille l'appareil à une seule application. Bloquez les touches matérielles, la navigation et faites fonctionner l'appareil exclusivement pour votre entreprise.

Marquage personnalisé: Faites une impression en reflétant la marque de votre entreprise sur vos appareils kiosques. Personnalisez les fonds d'écran, les jeux de couleurs et les logos des applications.
Prenez en charge différents modes de gestion d'Android avec facilité en utilisant Scalefusion
Appareil entièrement géré et spécialisé
L'option privilégiée pour approvisionner les appareils appartenant à l'entreprise en fonction de ses besoins. Une sécurité des données et des appareils à toute épreuve.
Prenez le contrôle total de votre appareil

Verrouillez et nettoyez votre appareil à distance

Distribuez, configurez et mettez à jour les applications
Profil professionnel
Permettez à vos employés d'utiliser les appareils Android qu'ils aiment. Appliquez sélectivement des politiques aux conteneurs de travail sur les appareils BYOD.
Contrôle limité sur l'appareil

Poussez les applications vers le profil professionnel uniquement

Gardez les données professionnelles et personnelles séparées
Logiciel de gestion Android
Gérez n'importe quel dispositif ou terminal fonctionnant sous Android
Les entreprises modernes ont besoin de divers types d'appareils pour des cas d'utilisation variés. Gérez-les tous avec une solution unique.
Téléphone et tablette

Robustes et portables
Point de vente
Kiosque interactif
Signalisation numérique
Appareil personnalisé
Obtenez plus de contrôle sur vos appareils Android sans dépenser une fortune
Caractéristiques principales de la gestion des appareils Android
Surveillance des appareils
Localisation et géo-localisation
Suivez l'emplacement en temps réel. Créez des géo-localisations et recevez des notifications lorsque des appareils se déplacent dans une géo-localisation.
Rapports
Générez des rapports sur l'utilisation des appareils, les performances et l'activité des utilisateurs. Prenez des mesures basées sur les données pour maintenir les performances des appareils.
Surveillance des fonctions vitales de l'appareil
Surveillez les fonctions vitales des appareils, notamment l'utilisation de la batterie, des données et du stockage. Surveillez les incidents de sécurité et les temps d'arrêt.
Suppression à distance
Supprimez à distance les données des appareils perdus, volés ou mis hors service. Sur les appareils BYOD, supprimez à distance le conteneur de travail.
Sécurité
robuste/complète
Empêcher la réinitialisation d'usine
Autorisez uniquement certains comptes Google à se connecter à l'appareil après une réinitialisation d'usine
Empêcher les captures d'écran
Empêchez les employés de faire des captures d'écran des applications professionnelles sur les appareils BYOD. Empêchez la copie entre les applications personnelles et professionnelles.
Politique basée sur la vitesse
Mettez l'accent sur la sécurité de l'utilisateur. Verrouillez l'appareil si l'utilisateur se déplace plus vite que la limite de vitesse définie.
Prévention des pertes de données
Restez concentré sur la sécurité des données. Appliquez des politiques DLP étendues pour protéger les données de l'entreprise.
Bloquer les boutons du matériel
Sur les appareils kiosques, bloquez les touches matérielles et de navigation.
Attestation SafetyNet
Évaluez l'intégrité des appareils sur les dispositifs BYOD pour garantir la compatibilité et la sécurité des appareils.
Protection des données sur le BYOD
Empêchez la copie entre les applications personnelles et professionnelles
Gestion améliorée des appareils
Gestion du contenu
Transformez vos appareils en panneaux de signalisation numérique. Créez et publiez du contenu interactif, des présentations et des documents.
Courriel et échange
Aidez vos employés à se connecter par le biais de la messagerie professionnelle. Configurez les paramètres de messagerie et d'échange.
Gestion des navigateurs
Bloquez l'accès aux sites Web non professionnels. Configurez les paramètres du navigateur pour plus de sécurité.
Wi-Fi et Hotspot
Activez le travail à distance avec un accès Internet sécurisé. Poussez les paramètres Wi-Fi, hotspot et réseau sécurisés.
Gestion à distance des applications
Distribution et gestion transparentes des applications
Donnez aux employés les moyens d'accomplir leur travail sur des appareils Android. Alimentez votre flotte d'appareils Android avec les dernières applications professionnelles. Installez silencieusement des applications sans aucune intervention de l'utilisateur.
Gestion du Play Store : Distribuez des applications professionnelles et des applications Web progressives (PWA) à partir de Google Play Store.

Magasin d'entreprise Scalefusion : Publiez des applications privées sur des appareils en téléchargeant des APK Android sur le tableau de bord Scalefusion.
Installation
Installation silencieuse et à distance de l'application. Planifiez la publication de l'application.
Mise à jour
Mise à jour à distance des applications vers la dernière version.
Configuration d'application
Configurez les paramètres des applications en fonction de votre activité.
Android Shared Device
Maximize Android Device Utilization and Collaboration with Shared Device
Enhance employee productivity and reduce device inventory costs. Maintain seamless user switching on shared Android devices round-the-clock without affecting device policies.
Switch Profiles
Enable profile switching based on the user accessing the device.
Auto Sign Off
Set a time (in hours) after which the signed user will be automatically signed out.
Configure Alert Message
Display a personalized message to users on shared devices 5 minutes prior to their scheduled automatic sign-out.
Clear Data on Sign-In
Clear the app data of the allowed apps after every user signs in successfully on shared devices.
User Authentication
Only authorized users can use the shared device with an email address and OTP-based user authentication.
Gain Valuable Insights
Get insights into device usage patterns with comprehensive tracking and reporting features.
Android Device Management Software
Logiciel de gestion Android avec dépannage des appareils
Ne perdez pas la productivité de l'entreprise à cause des erreurs des appareils. Résolvez à distance les problèmes liés aux appareils et réduisez le temps d'indisponibilité de ceux-ci pour le personnel distant et les employés de première ligne. Mettez en évidence les écrans des appareils sur le tableau de bord et sur certains appareils, prenez le contrôle de l'écran.
Appels VOIP
Étendre les directives étape par étape pour résoudre les problèmes liés aux appareils.
Synchronisation de fichiers
Synchronisez les fichiers des appareils, poussez ou supprimez les fichiers et les fichiers de configuration.
Tickets d'assistance
Créez des tickets d'assistance en fonction du contexte sur l'outil ITSM intégré.
Secure Android Enterprise Management Solution
Advanced Security for your Android Deployment
Protect company data on Android devices used for work by enforcing security policies and access controls. Secure both company-owned and employee-owned devices. Effortlessly perform security and compliance checks.
Factory Reset Protection (FRP)
Apply FRP on Android EMM devices. Allow only select google accounts to set up the device upon factory reset.
Remote Wipe-off
Remotely wipe-off data on lost or retired devices. Selectively wipe off corporate data on employee-owned devices.
SafetyNet Attestation
Scalefusion supports Google SafetyNet Attestation. Validate employee-owned Android devices for integrity, security and compatibility.
Data Loss Prevention
Extend DLP by controlling network and sharing settings. Prevent users from copying data from work apps to personal apps on BYO devices.
Passcode Policy Enforcement
Enforce passcodes on enterprise devices. Define password type and how complex the passcodes should be. Select how often the passcodes should be changed to ensure added security.
Certificate Management
Maintain security of devices operating on unknown networks. Upload and push digital certificates for device authentication on Android devices.
VPN Configuration
Secure access to corporate data and networks by remotely configuring VPN. Configure native protocols for VPN or choose a third-party VPN provider on the Scalefusion dashboard.
Location & Geofencing
Track Device Location and Monitor Geofence in Real-time
Scalefusion Android Device Management App provides real-time location tracking for Android devices, allowing effective device inventory management. Geofencing allows businesses with field employees to set up virtual boundaries on a map, receiving alerts when a device enters or exits the designated area, ensuring employees are at the right location at the right time.
Enterprise App Configuration
Streamline Enterprise App Configuration with Ease
Configure and customize your organization's enterprise applications seamlessly with Enterprise App Configuration. Take control of Enterprise app settings. Set up and push configurations to enrolled devices. Simplify app management and enhance productivity within your organization with Enterprise App Configuration.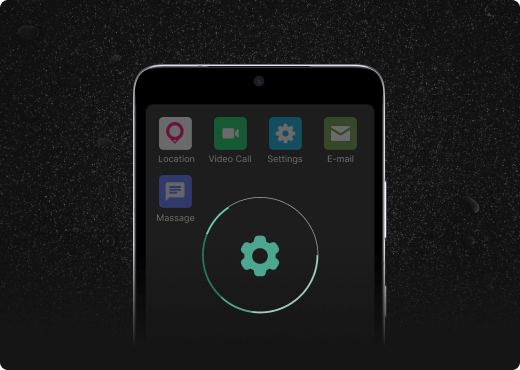 Compliance-Ready Android Management Solution
Scalefusion is in complete compliance with industry-specific regulations like GDPR, SOC 2, and HIPAA, providing robust protection for your sensitive data and devices. With our Android Management Solution, you can trust that your data is secure and meets regulatory standards.
Faites l'expérience de la gestion des appareils Android grâce à la simplicité
Autres caractéristiques
Inscription sans effort
Android Zero-touch
Approvisionnement des appareils d'entreprise par liaison hertzienne
Inscription en masse des appareils
Téléchargez le CSV des numéros de série et IMEI et appliquez des politiques en masse.
Inscription AFW#
Sur les appareils Android Enterprise Ready, lancez l'inscription OOB.
Inscription en ROM
Scalefusion pré gravé avec votre OEM pour une inscription prête à l'emploi.
Inscription par code QR/URL
Commencez en scannant le code QR ou en visitant l'URL d'inscription.
Inscription de Samsung KME
Embarquez les appareils Samsung Knox en masse
Automatisation/Flux de travail
Contrôles de conformité
Transformez vos appareils en panneaux de signalisation numérique. Créez et publiez du contenu interactif, des présentations et des documents.
Planification des mises à jour
Retardez, programmez ou automatisez les mises à jour du système d'exploitation. Planifiez les mises à jour du système d'exploitation en fonction de la fenêtre de maintenance.
Alertes de sécurité
Identifiez les menaces de sécurité grâce aux alertes de sécurité automatisées. Programmez des contrôles réguliers et recevez des mises à jour par courriel.
Automatisation des tâches
Maintenez les performances des appareils non surveillés. Planifiez des tâches telles que la publication d'applications et le redémarrage des appareils.
Autres plates-formes prises en charge
Frequently Asked Questions
Android Device Management refers to the process of managing and securing Android devices used in a business or enterprise environment. This includes smartphones, tablets, and other Android-based devices employees use for work. The primary goal of Android device management is to ensure that all devices are secure, up-to-date and configured properly to meet the needs of businesses.
Managing Android Devices can be a seamless task for IT admins using a mobile device management (MDM) solution. IT admins can access the dashboard of an MDM software and create multiple Android device profiles. They can then choose the required configurations for each profile and apply them to Android devices. IT admins can also change the configurations as and when required.
The key features of Android Device Management that IT admins can leverage are:

- Enforce passcode policies
- Integration of Google Workplace for Business
- Manage Android app deployment
- Customize device settings
- Monitor device usage

Rationalisez les appareils avec un logiciel de gestion Android